Lock down is getting to me and I'm running out of things to make. Making a Jet Powered Witches Broom seems the sensible option.
Purchased form a builders merchant in Shrewsbury, 1 x lovely piece of 50mm thick Oak Timber.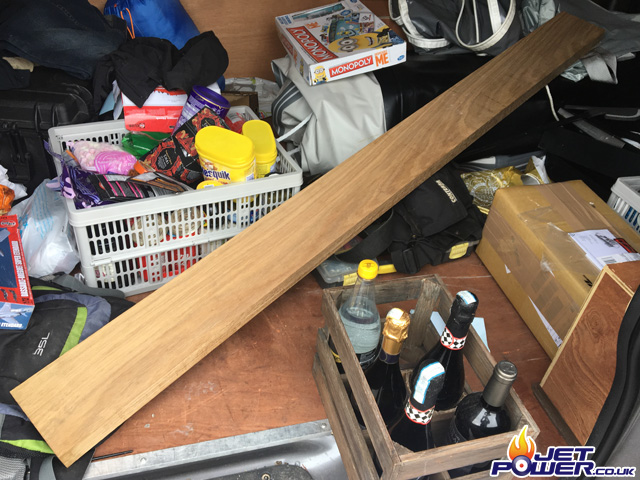 This was harder to do than it looks, cut straight down the middle giving approximately 2 x 25mm thick pieces.
One half was then profiled to the shape of the broom and then used as template for the other half.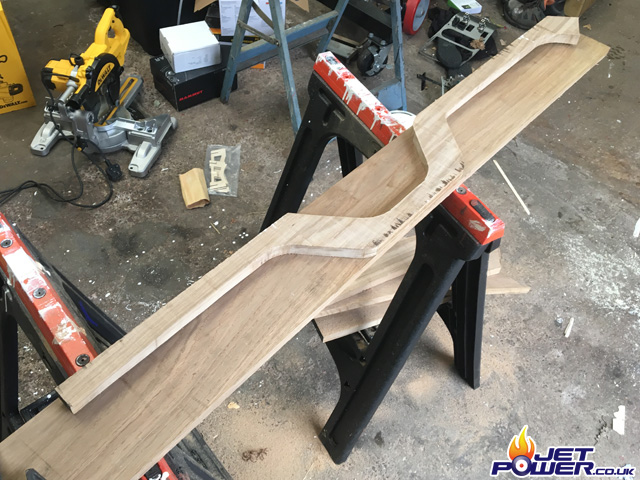 I am concerned that there are some areas of the Oaks grain that will be susceptible to splitting/ breaking when assembled, so I am adding a carbon weave reinforcement stringer straight down the middle of the two pieces.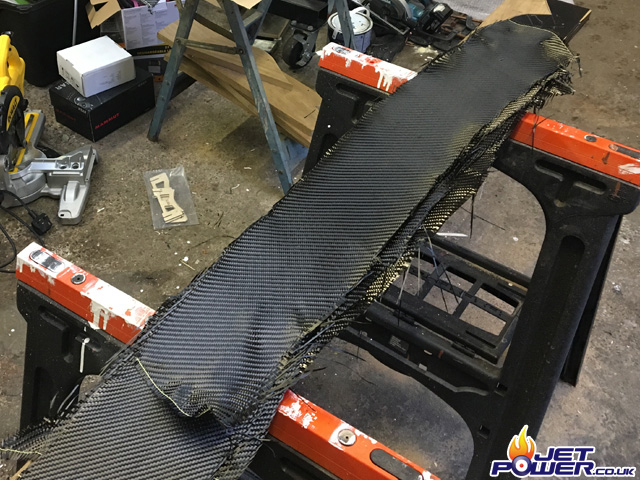 Now, I know a bit about laminating and GRP form my Windsurfing days, but not a lot about gluing Oak to Carbon Fibre. My best guess was to use SP Systems Epoxy 115, because that's what we used to make windsurf boards from. The Oak profiles were reversed so that the surfaces were flat and copious amounts of resin added to wet out the carbon fibre and then clamped to hold everything in place.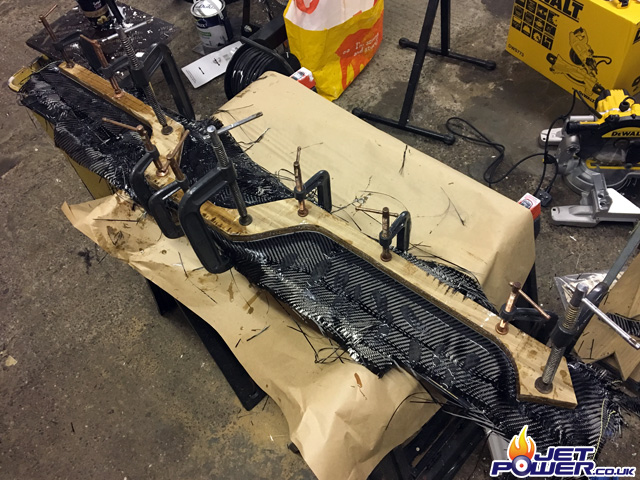 A day later the resin had cured and the clamps have been removed.
I don't have a picture, but the excess carbon was cut away and the whole thing put to one side for a week or two as other stuff had to be done.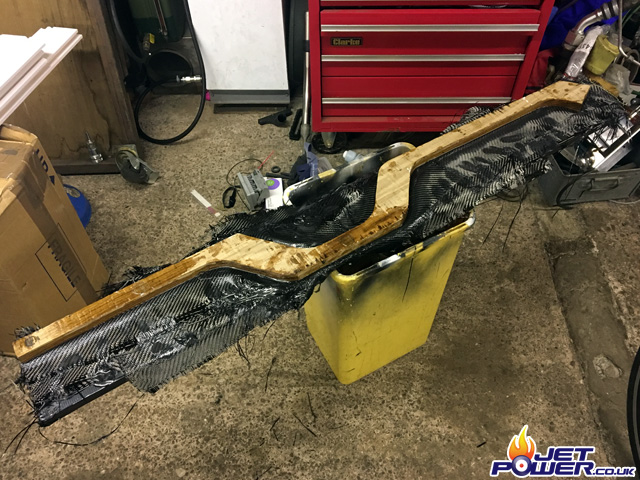 Well, some time has passed and it was back to the project. Unfortunately, the Oak had started to separate from the carbon stringer and after some research I found it was due to the natural oils held within the Oak that was causing the issue. A soak in a warm bath and a sharp thin knife allowed me to separate the three sections because if at first you don't succeed etc.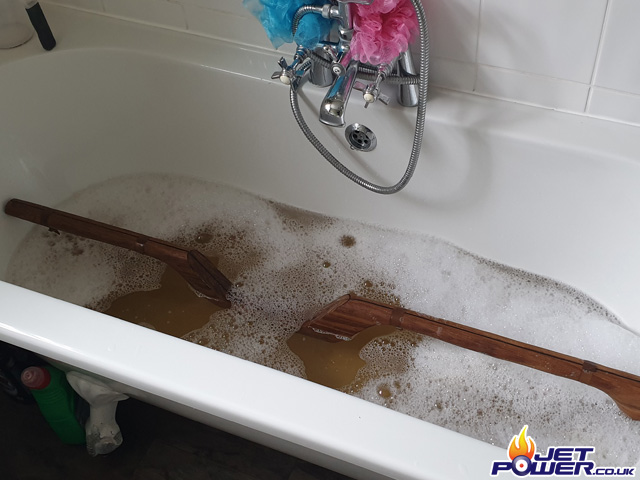 Separated components washed down and rinsed with luke warm water.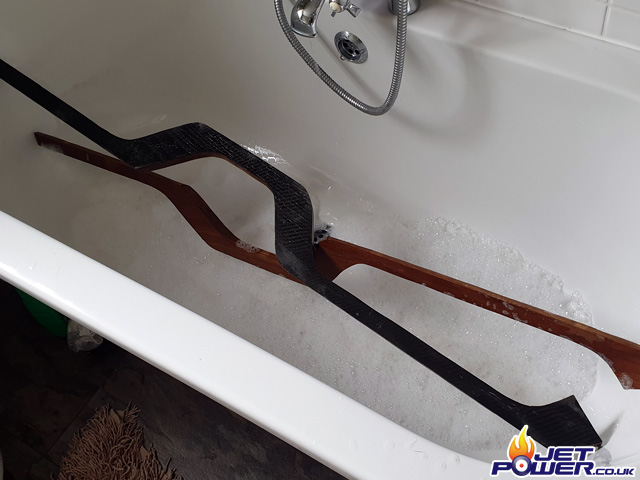 Some sanding down was required to remove the excess resin and small areas where the Oak had actually stuck to the Carbon Laminate and vice versa.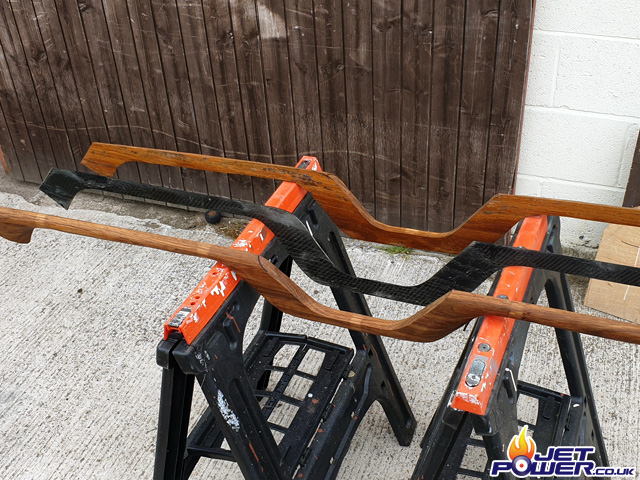 Lets try gluing this thing together again. I knew this was going to be messy so I covered the outer sides of the Oak with Gaffa Tape so that it would have some form of protection from excess resin dripping out and the contact surfaces were scored for better adhesion.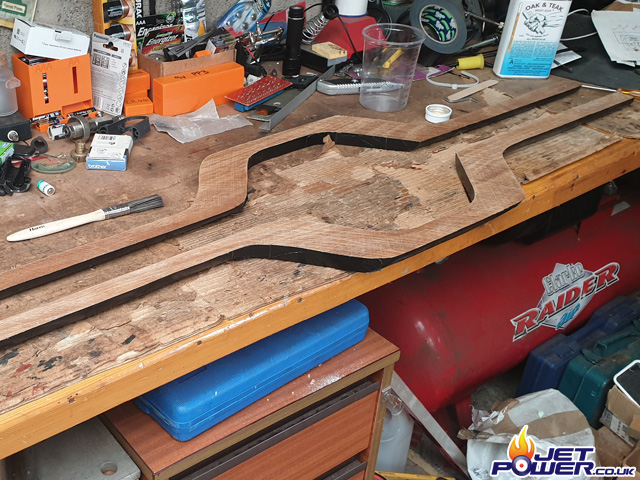 I found a company that sells glue especially for use with Oak and Teak Hardwoods, apparently it's composition is based on the oils contained within the wood it self, also being epoxy based it should also stick to the carbon stringer. Fingers crossed!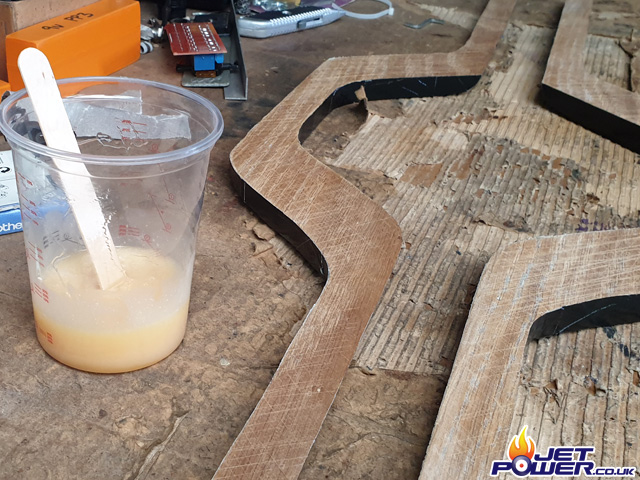 Glue added to one surface and allowed to soak in for 10 minutes or so, then the some more glue was added and the stringer placed on top.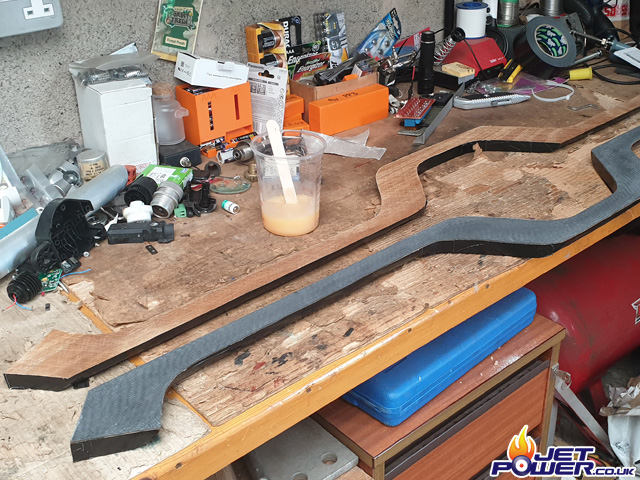 Then glue was added in the same fashion as above and the three pieces clamped for 24 hours.